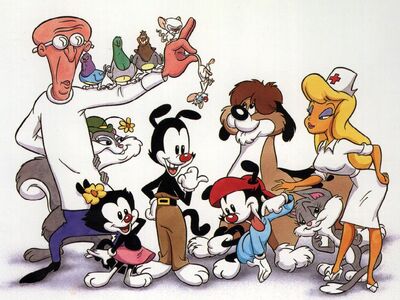 Pac-Man Meets the Animaniacs is a Pac-Man/Animaniacs game releced for the GBA, Xbox 360, PS2, PSP & Wii.
The gameplay is simular to Pac-Man Fever & Pac-Man Meets the Tiny Toons only the non-Pac-Man/Tiny Toons stars are replaced by The Warner Bros (and the Warner Sister Dot) along with Dr. Scratchansniff, Hello Nurse and Pinky & the Brian.
Characters
Edit
Pac-Man
Ms. Pac-Man
Yakko
Wakko
Dot
Dr. Scratchansniff
Hello Nurse
Pinky (from Pinky & the Brain. Yes he shares the same name with Pinky the ghost)
The Brain
Baloney the Dinosaur
In the bonis features there is a video were Pinky & the Brain meet Pinky the Pac-Ghost, plus both the Animaniacs & Pac-Man version of Baloney and Kids. The original Pac-Man is also included.